Effectuation Books & Chapters
Dive into a good book and learn about Effectuation at the same time
Books about Effectuation
As Effectuation has become a subject of more research and discussion, more and more authors have stepped forward and dedicated books and chapters to Effectuation in all kinds of forms. Several examples are below.
Effectual Entrepreneurship 3rd Edition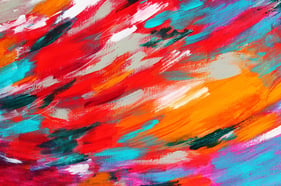 The new edition of the top-selling, highly diverse entrepreneurship textbook, Effectual Entrepreneurship, will be available in late 2023.

Co-authored by Saras Sarasvathy and Glen Wheatley, the third edition will bring increased connection to readers, online resources, multi-disciplinary challenges, and other entrepreneurship theories.

Learn more here: Effectual Entrepreneurship, Third Edition
Nominate content here: Content Nomination Form
Glen B. Wheatley, Co-Author
Effectual Entrepreneurship, Third Edition
E: glen.wheatley@effectual-entrepreneurship.online
M: +61 415 898 876

Expertise and Expert Performance
K. Anders Ericsson, Ed.
The second edition of the definitive study of what constitutes expertise. Includes a chapter on the Effectual Ask as "unit" of Entrepreneurial Expertise.
Tous innovateurs, 2 methodes pour reveler des solutions invisibles dans le complexe.
Dr Dominique Vian (Auteur), Dr Melanie Ciussi (Auteur), Dr Christophe Sempels (Auteur)
An innovator needs to increase his ability to perceive what connects elements of complex environments. It is useful for transforming these environments. Acquiring this skill is possible, if we learn effectual thinking.
The good news is that this book allows you to apply two methods when facing two different situations:
1. I face a complex problem. What can be the innovative solution?
2. I have an idea. How to turn the innovative idea into something concrete?

This book addresses recurring questions of entrepreneurship and social transformation, but from a new perspective: effective innovative methods enabling to act quickly with available means. This book addresses recurring questions of entrepreneurship and social transformation, but from a new perspective: effective innovative methods enabling to act quickly with available means.

Whom is this book for? To anyone willing to innovate and transform their environments. It also fulfills the need of transformation of institutions (large companies, governments, SMEs) and also start-ups who want to innovate when starting from problems or ideas.

Buy it on Amazon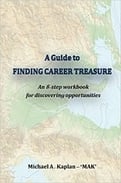 A Guide to Finding Career Treasure: An 8-step workbook for discovering opportunities
Michael A. Kaplan 'MAK' (Author)
A Guide to Finding Career Treasure is not another book providing the appealing but vague career advice to 'just follow your passion.' It is also not a book about resumes and cover letters, or encouragement to do stereotypical 'job networking' which too often is a waste of time, or worse.
A Guide to Finding Career Treasure explains specific steps you can take for HOW to go about creating the work future you truly want rather than being limited to what's printed on the menu.
This book applies key principles from the field of effectuation (followed by expert innovators and entrepreneurs) to find and get work you would enjoy doing even if you were not paid to do it! MAK calls this 'finding career treasure.'
This workbook is for college students and young professionals (and possibly some not so young). In 8 sections/80 pages, it provides detailed explanations, exercises, and actions that will enable and empower you to pursue and find your career treasure.
If your life and education have taught you a lot, but maybe not nearly as much about 'how' to put your interests and education to work, this workbook may quickly prove very valuable to you.
Effectual Entrepreneurship 2nd Edition (Stuart Read, Saras Sarasvathy, Rob Wiltbank, Nick Dew, Authors)
What are you waiting for?
Whether you're dreaming about starting a business, learning about entrepreneurship or on the brink of creating a new opportunity right now, don't wait. Open this updated bestseller. Inside you'll find everything you need, including
A newly established and popular way to learn about and to practice entrepreneurship
Specific principles derived from the methods of expert entrepreneurs.
70+ updated and renewed case briefs of entrepreneurs across industries, locations and time.
Applications to social entrepreneurship, technology (new!) and to the creation of opportunities in large enterprises.
60+ "Research Roots" connections to current and foundational research in the field.
Brand new chapter on "The Ask" – strategies for initiating the process of co-creating with partners
Data that willenge conventional entrepreneurship wisdom
A broader perspective on the science of entrepreneurship and the ways in which individuals can shape their own situations
In this vibrant updated edition, you will find these ideas presented in the concise, modular, graphical form made popular in the first edition, perfect for those learning to be entrepreneurs or those already in the thick of things.
If you want to learn about entrepreneurship in a way that emphasizes action, this new edition is vital reading. If you have already launched your entrepreneurial career and are looking for new perspectives, take the effectual entrepreneurship challenge! this book is for you. If you feel that you are no longer creating anything novel or valuable in your day job, and you're wondering how to change things, this book is for you. Anyone using entrepreneurship to create the change they want to see in the world will find a wealth of thought-provoking material, expert advice and practical techniques in these pages and on the accompanying website: www.effectuation.org.
Effectuation: Elements of Entrepreneurial Expertise (Saras Sarasvathy, Author)
To effectuate is to engage in a specific type of entrepreneurial action. It has special importance for situations where the future is truly unknowable or human agency is of primary importance. In "Effectuation", Saras Sarasvathy explores the theory and techniques of non-predictive control for creating new firms, markets and economic opportunities. Using empirical and theoretical work done in collaboration with Herbert A. Simon, the author employs methods from cognitive science and behavioral economics to develop the notion of entrepreneurial expertise and effectuation.
Supportive empirical evidence is provided by the author's study of 27 entrepreneurs as well as other independent studies.The book then traces the consequences of effectuation for business management, economics and social philosophy. The author finds that effectuators generate constraint-satisfying solutions rather than searching for optimal ones, make rather than find opportunities, and in a deep sense, convert 'as-if' propositions into 'even-if' ones. The way they accomplish this is the central discussion of the book. Students and scholars of entrepreneurship will find this path-breaking research of great value.
The book's conclusions will also be of interest to those in the fields of behavioral and evolutionary economics, cognitive science, marketing, applied psychology, sociology, business ethics, social philosophy, public policy, anthropology and political science.
Entrepreneurship for the Curious – Why Study Entrepreneurship?: The Truth About College Major, Research, Scholarships, and Jobs (Kishor Vaidya PhD, Editor)
Why not consider Entrepreneurship as your college major or career? Reasons always come first, results come second.
Are you interested in pursuing a bachelor's, master's, or doctorate degree in Entrepreneurship? How to decide if Entrepreneurship is right for you?
One of the most important decisions that you will make in college is to select a major. Such decision should not be taken lightly, as it has profound implications for your career and life after college. A wrong choice today will result in added semesters and tuition tomorrow.
* Chapter 4 of this book is devoted to effectuation!
* Are you one of those students? Do you feel you are underprepared when choosing a major?
* Are you choosing your major based on influence and assumptions?
* Are you looking to your adviser, parents, and peers rather than draw conclusions based on your own research, interests, abilities, and self-reflection?
If you answered "YES", you are not alone.
A recent research study shows that 80% of freshmen say they are undecided about their major. Most of them will change their minds multiple times even after they declare their major.
Even the "decided" students often do not base their decision of major on factual research and self-reflection. The biggest mistake both the undecided and decided students make is failing to research what's required of the major, and the profession.
If you are one of those students, we can assure you with great confidence that this book is for you.
Take a deep breath. You need help to make this important decision which will impact the rest of your life. Don't leave the important years of your life up to feelings, circumstances, or chance.
The information in this book is NOT theory. These are not just a lot of nice suggestions. They are proven best practice strategies that work.
Although most of the chapters in this book are peer-reviewed, they have been written in plain English in layperson's terms to give you the best/easiest reading experience.
To help your research, we approached over 17 top professors to offer their powerful perspectives and advice. We asked them to address the most important issues for you in plain English:
* Why should you choose Entrepreneurship as your undergraduate major or minor?
* Why should you undertake a graduate/PhD degree in Entrepreneurship?
* What are the research areas/issues and scholarship opportunities in Entrepreneurship?
* What are the jobs/career options and best practice tips for the Entrepreneurship graduates?
There are many books which claim to help you choose your major. But this book is different. How?
First, as opposed to "one size fits all" books, this is the first book ever written solely focusing on Entrepreneurship.
Second, as opposed to perspective from a single author, this book provides you with multiple perspectives from the top university professors.
Third, as opposed to most other academic/complex books, this book is easy to understand and read.
Finally, as opposed to crippling higher prices charged by other publishers, we have made this book available at the price of less than two lattes (or two beers if you prefer).
This book contains no fluff, no complex theories, and no sugar coating. This is a serious book. It is presented in a rather fun, non-serious manner.
This book is missing one thing—hype. It's filled with real strategies and real techniques that will give you real results. If you are considering Entrepreneurship for your major, we repeat this is the ONLY book you'll ever need for your career success.
Take this book as an investment in your life. This book is about YOU. Your major. Your research. Your career. Your success. Take action today.
Entrepreneurial Marketing: an effectual approach
How do you sell a totally new kind of product to a market that does not yet exist? Entrepreneurial businesses often create products and services based on radically new technology that has the power to change the marketplace. This means that existing market research will have produced data about market categories and structures that are largely irrelevant to the entrepreneur. This complicates the sales and marketing functions for new products that may be hard for the market to understand in the first place.
Entrepreneurial Marketing focuses on this special challenge: new marketing methods for new products. Classic core marketing concepts, such as segmentation, positioning, and the marketing mix undergo an "extreme makeover" in the context of innovative products hitting the market. The author stresses effectuation, iterative thinking, principles of affordable loss, adjustment for emerging opportunities, and cooperation with first customers.
This new textbook provides students of entrepreneurial marketing with everything they need to know to succeed in their classes as well as practical tools and techniques that will be useful after the exams have finished.
Find it at: https://www.routledge.com/Entrepreneurial-Marketing-How-to-Develop-Customer-Demand/Nijssen/p/book/9780367445324

Effectuation: Les principes de l'entrepreneuriat pour tous
This book is the first introduction to Effectuation in French, now available in paper published by Pearson.
Corporate Effectuation: What managers should learn from entrepreneurs (Thomas Blekman, Author)
Did you ever wonder why successful entrepreneurs always seem to accomplish 'magical' results, even in uncertain times, while others struggle on a daily basis? What do they do differently? What can managers really learn from successful entrepreneurs?
Corporate Effectuation brings a scientifically proven method called 'Effectuation' to corporate organizations.
Effectuation consists of 5 principles that help managers cope with uncertainty and unpredictability.
Bird in hand principle
Affordable loss principle
Crazy quilt principle
Lemonade principle
Pilot in the plane principle
The five principles are proven in a corporate context in collaboration with 17 path banding co-authors. In this book, valuable case studies are presented such as Philips, RWE Essent, Rabobank, KVD, University Hospital of Maastricht and De Beukelaar Groep. A changing world requires strategic flexibility. Corporate Effectuation offers a new view of 'corporate entrepreneurship' and illuminates insight into new tools for corporations such as Business Modeling and Reframing. After reading Corporate Effectuation there is no longer reason to be a 'smart-follower'. Apply these new insights and you too can be a 'smart-creator'.
'Thomas Blekman offers insight into where new opportunities come from and the process and tools by which they are created.' – Stuart Read , Professor in Marketing, Innovation and Entrepreneurship at IMD Switzerland
'Enterprises that can deploy both the causal approach and effectuation will be the winners of tomorrow.' – Dr. Fred van Ommen, CTO, Senior Vice President of Innovation Excellence, Philips Electronics
'It is a paradigm-shifting work, and therefore a serious candidate to become the Management Book of the Year 2012.' – Marco van Veen, Manager of Heineken International Web Center
Published in 2011.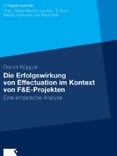 The Success of Effectuation in Contexts (German) (Daniel Kupper, Author)
Innovative products are seen as key source of competitive advantage. On the basis of an under-developed concept of entrepreneurship research, known as Effectuation examined Daniel Kuepper how companies can design their innovation management more successful. An empirical analysis of over 400 R & D projects, he points to the approach in Effectuation and demonstrates the success effect. On this basis, the authors recommend to improving innovation management, the konnen.Auf to permanently safeguard the competitiveness of help from technology-based enterprises based on a within the entrepreneurship research developed approach, known as Effectuation examined Daniel Kupper how companies can execute Innovation management can make even more successful. The procedure is explained to Effectuation, highlighted the impact and success in an empirical analysis of over 400 R & D projects demonstrated.
Back Cover
Innovative products are seen as key source of competitive advantage. On the basis of an under-developed concept of entrepreneurship research, known as Effectuation examined Daniel Kuepper how companies can design their innovation management more successful. An empirical analysis of over 400 R & D projects, he points to the approach in Effectuation and demonstrates the success effect. On this basis, the author provides recommendations to improve innovation management that can contribute to sustainable ensure the competitiveness of technology-based firms.
Published in 2010.
Find it on amazon.com
Publisher's listing

Effectuation – How Successful Entrepreneurs Think, Decide, and Act (German) (Michael Faschingbauer, Author)
The latest trend in the entrepreneurship research and highly topical issue in the media, this book brings scientific evidence for entrepreneurship expertise for the first time in German. The text details specific instructions including labor issues and checklists and case studies in a practical toolbox of instruments for shaping the future. Effectuation turns the traditional causal logic management (implementation plan setting goals) on the head. Entrepreneurs start it without firm targets to act solely on the basis of their own funds. The interesting thing about it: especially in unpredictable situations, the new method achieves better results. The book presents a theoretical principle Effectuation entrepreneurial activity and illustrated with cross-industry case studies, practical applications.
Pressestimmen
Wie erlangt man Entscheidungs- und Handlungskompetenz unter Ungewissheit? Gerade heute kommt es auf unkonventionelle und pragmatische Losungen an, die schnell und effektiv Ziele erreichen, wenn andere noch den Konferenzraum fur das Strategiemeeting suchen." (Buchhandler heute)
"Das bislang wichtigste Managementbuch des Jahres". Michael Faschingbauers Buch "Effectuation" gibt all denen Schutzenhilfe, die Businessplanen, Analysen und Marktforschungsdaten kritisch gegenuber stehen, wenn es darum geht, Neuland zu betreten. Vor allem aber bietet Effectuation Methoden und Prinzipien, um sich in unwagbarem Gelande zurechtzufinden." (Managementbuch-Review.de)
"Michael Faschingbauer stellt Effectuation als theoretisches Prinzip unternehmerischen Handelns vor. Dabei setzt sein Buch auf wissenschaftliche Erkenntnisse und bietet Fallbeispiele sowie Instrumente fur die unternehmerische Praxis." (personal)
"Worauf es bei Effectuation ankommt, sind Visionen. Was will ich? Was kann ich? Was weiss ich? Das sind hierbei die massgeblichen Fragen. Ein breites Netz an Sachkennern, Ratgebern und Forderern ist ausschlaggebend, um dann direkt zum Handeln uberzugehen. Eine klare Leseempfehlung fur ambitionierte Grunder und Unternehmer, die nicht nur auf Schiene fahren." (business bestseller)
Published in 2010.
Find it on amazon.com
Publisher's listing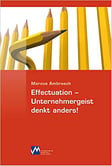 Effectuation – Entrepreneurs Think Differently! (German) (Marcus Ambrosch, Author)
The logic of entrepreneurial activity (Effectuation) explains how entrepreneurs create new markets, products and opportunities. Discover their entrepreneurial spirit and make the future! Effectuation was founded by Saras D. Sarasvathy and has been researched more than a decade. Experienced entrepreneurs think and act beyond causal management thinking. For special they are running on top form here, if the uncertainty is high and the low goal orientation. The book not only provides an insight into the state-of-the-art knowledge of entrepreneurship research, but defines them and makes them practically applicable. The basics of how entrepreneurs and managers think, creativity and innovation lead to the description of the dynamic model and the five principles of Effectuation.
Here, the relevant factors in the creation and development of markets, organizations and products are described, for example, also includes the failure to success. An additional benefit of the author offers a detailed look at other fields of practice in strategic management, agile project management and organization, teaching entrepreneurship, marketing and management in the field of innovation. A book that inspires your entrepreneurial spirit with new inspiration and is suitable not only for entrepreneurs and managers.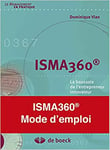 ISMA 360
ISMA 360° is both a method and a tool helping entrepreneur candidates to think and behave as seasoned innovators. The aim is to transform their invention into an innovation. It offers professionals an operational framework to engage into effectuation pragmatically. Based on the coupling of effectual logic and near-decomposability of complex systems, it pushes the work of Saras Sarasvathy and Herbert Simon (2000) one step further.
The book is in French, and available through Amazon.fr:
http://www.amazon.fr/Isma360-La-boussole-lentrepreneur-innovateur/dp/2804181006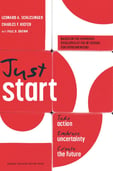 Just Start
What Separates Serial Entrepreneurs?
According to Babson College President Leonard Schlesinger and international consultant Charles Kiefer, the authors of the book Just Start, serial entrepreneurs have a completely different way of thinking from the rest of us. Much more importantly, serial entrepreneurs act on what they are thinking, and it's this action — this willingness to take immediate steps — that separates them from the non-serial entrepreneurs in society.
At first, readers of Just Start might believe that the authors, now joined by journalist and editor Paul Brown, have just fancied up the familiar concepts of "ready, fire, aim" or "leap before you look." Readers soon discover, however, that the authors have a concept a bit more sophisticated and nuanced in mind — a concept summarized in a rather ugly word that they coined: Creaction."
Schlesinger, L. A., & Kiefer, C. F. 2012.
Just Start: Take Action, Embrace Uncertainty, Create the Future. Harvard Business Press.

Reality Entrepreneurship: A practical guide to Effectuation
Reality Entrepreneurship is a first-hand collection of 6 entrepreneurship case studies across Europe. We visited effectual entrepreneurs in Spain, Germany, Austria, France, Lithuania and Finland to tell their stories in a most authentic and engaging way. Three of the cases are accompanied with a short video (free link inside the book), and all of the cases are designed for teaching and learning entrepreneurship & effectuation in a most interesting and accessible way. The cases contain many pictures, questions for classroom, and the book includes an introduction to effectuation with practical exercises, as well as a foreword written by Saras Sarasvathy, founder of effectuation theory.